Bianca can help you attract and manifest the true love you deserve!  Are you seeking a love relationship that is grounded in honesty, accountability, truth, and trust?  Are you looking for a relationship that is truly satisfying on all levels of your being? Then Bianca can help you to navigate your heart and find the partner that is the perfect match for you!  Get your Love and Relationship Tarot Reading now!
Find the Loving, healthy, and wholesome Relationship you desire Now!
Get Started by clicking a Paypal button below to choose your Tarot Reading!
15 Minute Readings – are Follow Up Readings for return Bohemian Tarot Clients.
30 Minute Readings – Answer 1 specific topic or question.
45 Minute Readings – Answer 2 questions or focus on 2 topics.
60 Minute Readings – UNLIMITED Questions! Answer ALL of the questions you have in an hour!
60 Minute Private Readings – UNLIMITED Questions!  Answer ALL of the questions you have in an hour!  Private Readings are done at a Private Location of your choice where Bianca will come to you!
$25 Traveling Fee – *All Private Tarot Readings will be subject to a $25.00 Traveling Fee for each 10 miles Bianca needs to travel outside of her area code and/or if she has to pay for parking.
Next, to schedule a Tarot Reading right away contact me…
All Tarot Readings can be done via phone, Skype, or in person!
In addition, Bianca will be sure to send you a Picture of your Tarot Reading as a keepsake, and so that you can continue to use the symbols and archetypes of your Reading to improve and deepen your life!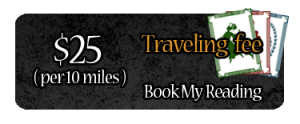 *ALL Readings are by Appointment Only. *Due to limited openings, *After hour Readings are subject to an additional $100.00 fee.