Bianca can give you transformative and practical spiritual direction!  Are you feeling lost, aimless, or at a crossroads?  Do you feel that there is a deeper purpose for your life?  Are you fulfilling your life purpose right now?  Bianca can help guide you through deeper spiritual terrain and assist you in uncovering your spirit's potential!  Find the deeper meaning behind your unique life.  Reveal why you are here and expose your spiritual truth!  Get your Spiritual Direction Tarot Reading now!
Reveal and realize your true Spiritual Path Now!
Get Started by clicking a Paypal button below to choose your Tarot Reading!
15 Minute Readings – are Follow Up Readings for return Bohemian Tarot Clients.
30 Minute Readings – Answer 1 specific topic or question.
45 Minute Readings – Answer 2 questions or focus on 2 topics.
60 Minute Readings – UNLIMITED Questions! Answer ALL of the questions you have in an hour!
60 Minute Private Readings – UNLIMITED Questions!  Answer ALL of the questions you have in an hour!  Private Readings are done at a Private Location of your choice where Bianca will come to you!
$25 Traveling Fee – *All Private Tarot Readings will be subject to a $25.00 Traveling Fee for each 10 miles Bianca needs to travel outside of her area code and/or if she has to pay for parking.
Next, to schedule a Tarot Reading right away contact me…
Phone (619) 929-4092 (*phone is best)
Email biancawaxlax@yahoo.com
All Tarot Reading can be done via phone, Skype, or in person!
In addition, Bianca will be sure to send you a Picture of your Tarot Reading as a keepsake, and so that you can continue to use the symbols and archetypes of your Reading to improve and deepen your life!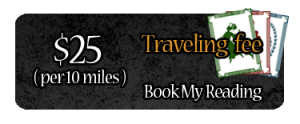 *ALL Readings are by Appointment Only. *Due to limited openings,  *After hour Readings are subject to an additional $100.00 fee.