Get a custom Bohemian Tarot Reading by Bianca NOW!
Bianca's Tarot Readings are fine tuned and designed to answer all of your pressing questions!  She will help you formulate your inquiries so that you get the most out of your unique and personal Tarot Reading.  Furthermore, Bianca will make sure that your Tarot Reading gives you true direction and specific points to focus on within your life, showing you how to best proceed.  All Tarot Readings can be done in person, over the phone, or on Skype!  In addition, Bianca will be sure to send you a picture of your Tarot Reading as a keepsake, and so that you can continue to use the symbols and archetypes of your Reading to improve and deepen your life!
Scroll down to Purchase a Tarot Reading & check out my Testimonials to see what others have to say…
15 Minute Readings – are Follow Up Readings for return Bohemian Tarot Clients.
30 Minute Readings – Answer 1 specific topic or question.
45 Minute Readings – Answer 2 questions or focus on 2 topics.
60 Minute Readings – UNLIMITED Questions!  Answer ALL of the questions you have in an hour!
60 Minute Private Readings – UNLIMITED Questions!  Answer ALL of the questions you have in an hour!  Private Readings are done at a Private Location of your choice where Bianca will come to you!
$25 Traveling Fee – *All Private Tarot Readings will be subject to a $25.00 Traveling Fee for each 10 miles Bianca needs to travel outside of her area code and/or if she has to pay for parking.
To purchase your Tarot Reading Now please click a Paypal button below.
Then call or email Bianca to schedule your Reading right away!   All inquiries will be answered within 24 hours.
For immediate assistance contact Bianca at:
(619) 929-4092 (*phone is best)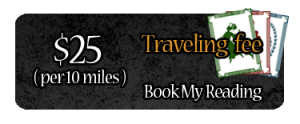 *ALL Readings are by Appointment Only. *Due to limited openings, *After hour Readings are subject to an additional $100.00 fee.
*(Photos on this site were taken by Raw Images via Daria Van Nice and the location is Lestat's on Park)
Read what others have to say about Bianca's Tarot Readings…
"Bianca is very gifted! Her Tarot Reading for me was totally right on.  I really appreciate challenge to widen my view to the larger perspective offered by Horus, and the need for time, the need of protection, the hope of transformation offered by the butterfly.  Thank you!"  Diane L. – Rockville, MD
"I have never had a card reading and was not much of a believer. However  Bianca explained to me how the process works with the universe.  I  went to the reading with some hard core questions ( not on love and romance) and I left there feeling satisfied with the answers I received. I was especially impressed  by Bianca depth of knowledge and education on the subject . And I have to say she comes across as a very real and caring person. I will go back again."  Carol J. – La Jolla, CA
"This is my 2nd reading.  Bianca is amazing and gifted reader.  Her explanation of the cards are clear, precise and encouraging (even with the not so good news).  I especially love the email that provides an overview of my reading.  I will keep in touch and can't wait to speak with her with another update."  Nikki M. – Chesapeake, VA
"Bianca is incredibly enlightening in the way she reads the cards. She explains detail-by-detail and connects the meanings together in a way that really allows one to examine life from new perspectives. Her warmth extends in her reading and she makes you feel comfortable, even when discussing the difficult truths we must face. She is very honest, and her advice was incredibly helpful. Immediately, the cards made sense to me, and I found the messages relevant to my life. Her advice was challenging to face, but I sensed (after the reading) that I was entering a new phase in my life, and I really think that Bianca helped to steer me in the right direction. I plan to follow up with her in the future. She is not just another tarot reader; she's that friend who gives you honest advice."  Monica M. – Fremont, CA 
"Bianca is amazing!!! She was dead on.. :)"  Veronica D. – San Ysidro, CA
"I have to echo what every one has said about Bianca.  She is SO insightful, uses such imagery when she tells you about the cards, educates you on what the smallest of card detail means and weaves the meanings of each of the cards into a wonderful explanation of what is in store for the future.  I thoroughly enjoyed my reading and plan to be a regular client throughout the years ahead! Thank you so much Bianca!!!"  Sydney T. – Del Mar, CA
"I got a Celtic Cross reading with Bianca about a week ago.  I was very curious about the reading in general as it was my first tarot card reading, and came in with an open mind. I didn't know what to expect but was very pleased that my reading was spot on. What I loved about the reading the most was that it gave me an overview of what was currently going on in my life, but also gave me some insight with items I need to focus on. The reading seemed to resonate even more after I had an acupuncture session with Bianca, and my thoughts were more clear. I would definitely go back to Bianca and recommend her to many of my friends."  Ramona M. – Peoria, AZ