Workshops
Sacred Tarot and Qabalah Workshop (3 hours)
Explore the mysteries of the Tarot through its relationship to the Qabalah!  In this workshop we will explore the skeleton and structure of the Qabalistic Tree of Life, along with its specific correspondences to the Sacred Tarot.  Learn how the 22 Major Arcana Cards align with the 22 Paths of the Tree of Life, and how the Minor Arcana correspond with the 10 Qabalistic Sephirah.  In addition, find out how you can perform a specialized Qabalistic Tarot Card reading!  The deck that will be used for this class is the famous Thoth Tarot Deck.  Discover the intense, unique, and powerful symbolism of these impressive Tarot Cards, and pull your own personal oracle card to see exactly where you fall into the Qabalistic Universe!  See what the Sacred Tarot and Qabalah can achieve for you!  Afterward the workshop, you can also get your own personalized Qabalistic Tarot Card reading from Bianca, and see where the Tarot can guide you!
To book this workshop you will need 2 participants minimum!
Book Now! Learn the Secrets of the Tarot! Sacred Tarot and Qabalah Workshop
Click the button below to purchase this workshop!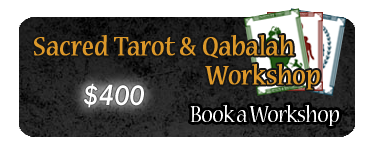 Tarot Lessons
Tarot Lessons will teach you the skills that you need to read Tarot Cards for yourself, friends and family, or professionally. Learn the Qabalistic roots of the Tarot.  Delve into the archetypes within in the cards and uncover how it's symbols effect the unconscious mind.  Discover new Tarot spreads, and even design your own!  Discover how to maximize your intuitive abilities and give deep, powerful, and meaningful Tarot Readings!
Magickal Sigil Lessons
A Sigil is considered to be a "symbolic representation of a magician's desired outcome."  And I can teach you how to construct your own, personal, magical sigil so that you can focus your intention and will into creating and manifesting the things you want to manifest most in life!  With a Magical Sigil Lesson you can apply what you learn to creating sigils that increase your happiness, help you manifest your true calling and career, and deepen the relationships in your life.  Learn how to focus your intention and will by creating your own personal Sigils Now!
All lessons include a Power Card Oracle Reading by Bianca!
Learn to Read Tarot Now, by clicking the button below!
And/or Learn how to create a Magickal Sigil NOW by clicking the button below!